By Kids Electronic Toy Manufacturer Cheertone |
31
October 2023 |
0
Comments
Inspiration For Kids Toy Manufacturer From The Reborn of BabiesRus
In the constantly evolving field of children's electronic toys, a recent development has caught the attention of industry enthusiasts and consumers.
BabiesRus, a brick-and-mortar store under WHB Global, officially announced its reopening in the United States in July 2023. Its sister brand ToysRus under the same group is the iconic brand representing creativity and innovation in the toy industry. The revival of Babies"R"us has profound implications involving market dynamics, technological advances, and strategic maneuvers within the industry. But we can boldly speculate that the market for baby products and educational electronic toys for children is about to take off!
Through this article, we will try to explore the following 2 questions:
1.What are the reasons behind WHB Global's decision to bring Babies"R"us back into the US market? Speculate based on information about the toy market.
2.The inspirations that the rebirth of Babies"R"us brings to manufacturers of children's electronic toys.
Why choose to restart Babies"R"us?
The revival of Babies"R"us is more than just a coincidence; it is a strategic decision based on careful analysis of market trends, competitive pressures, and technological advances.
External factors:
Changing demands in the toy market:
(1) Increasing demand for children's toys:
According to the baby toys product market report by Straits Research, the global baby toys market size was valued at USD 13.58 billion in 2022. It is expected to reach USD 19.49 billion by 2031, growing at a CAGR of 4.10% during the forecast period (2023-2031). Toys in the STEAM category as well as multifunctional smart toys combined with AI are the mainstream developments in the future toy market.
In addition, searching for related product keywords on Google Trends, such as Kid Toys and Baby Toys, reflects that demand for these types of products continues to rise. The main markets for these two product categories are still concentrated in Europe and America.
Baby Toys Trends - Data From Google Trends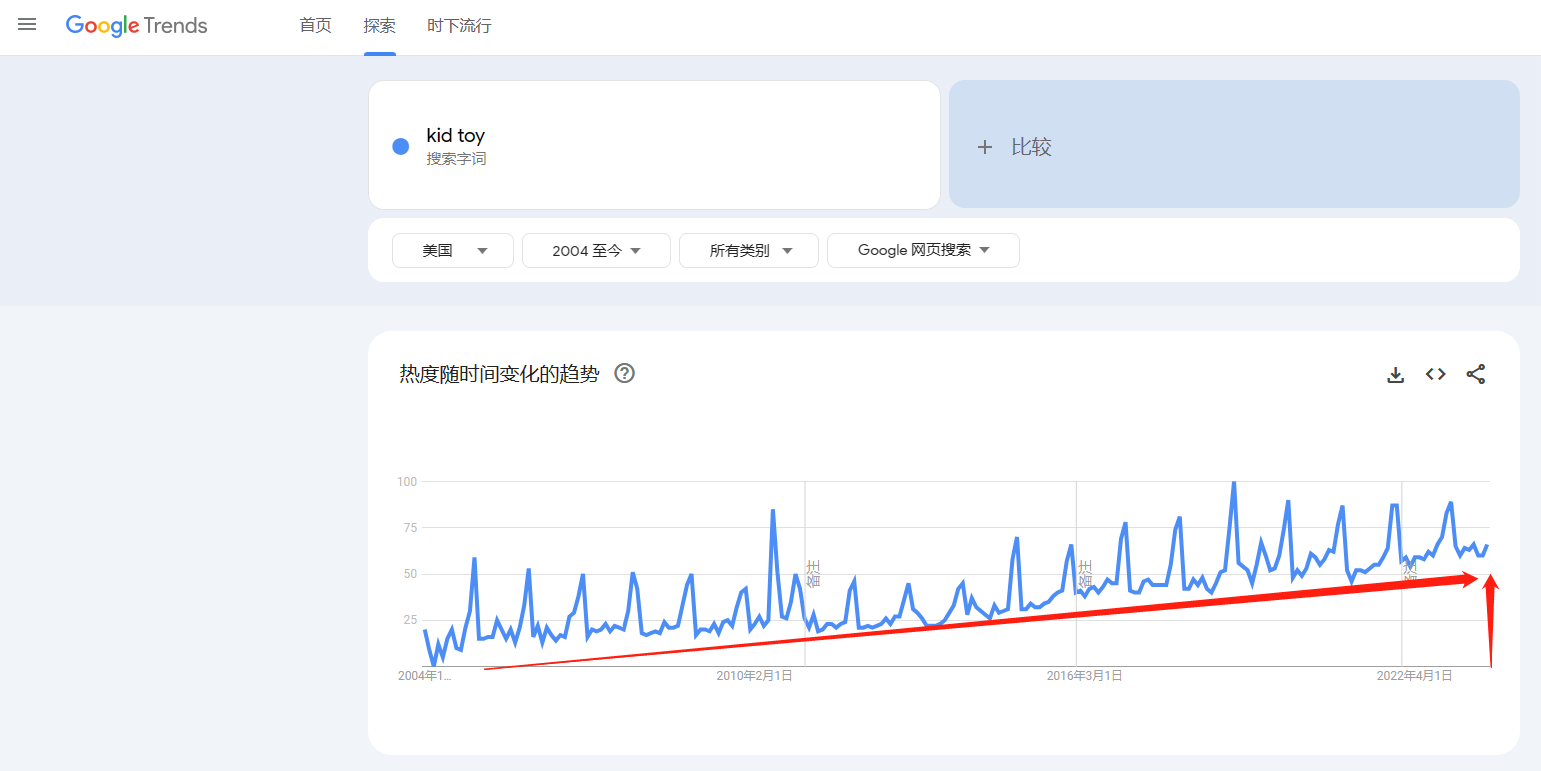 Kid Toy Trends - Data From Google Trends
Based on the data above, we can speculate that ToysRus chose to restart the BabiesRus brand this year in preparation for these future trends. The return of BabiesRus has received a very enthusiastic response across major social networking platforms. It seems that people have been looking forward to its comeback for a long time. Why is that? Let's take a look at some of the consumer responses from Facebook:
Comments from BabiesRus fans on facebook
Some consumers said that BabiesRus products not only bring convenience to the lives of children and parents, but more importantly, consumers learn how to become better parents through using their products. In addition, BabiesRus has also built an "moms community" ecosystem for consumers, continuously expanding and consolidating its customer base.
Other consumers said they also want their children to buy BabiesRus baby products in the future, because the high-quality products of BabiesRus carry their precious memories of parenting. It can be seen that BabiesRus chose to restart at this time, which just caters to market demand and meets consumer expectations.
2) Parents are placing more emphasis on early childhood education
Studies have shown that modern parents' views on children's toys have changed. Parents believe that age-appropriate toys can promote children's development to some extent and cultivate their self-regulation and executive abilities. This is also related to the improvement of parents' cultural literacy and the younger age of parent groups. Younger parents place more importance on early childhood education.
In the "Top 7 Reasons Why Parents Buy Toys for Kids", it is said that toys for the new generation are no longer just focused on entertainment like traditional toys used to be, but also incorporate educational functions. Top toy brands in the US like Vtech, Fisher-Price and ToysRus have introduced STEM toys that integrate science, technology, engineering and mathematics into toys. This allows children to learn rich knowledge while having fun, exercising their hand-eye coordination and thinking skills, promoting the all-round physical and mental development of children. Of course, early childhood education cannot rely solely on one toy, and parental participation is the key to early education.
Internal factors:
Strategic brand development needs:
ToysRus is the most well-known large toy chain in the United States, founded in 1948 and headquartered in Wayne, New Jersey. With the constant expansion of demand for children's toys, the first ToysRus brick-and-mortar store officially opened in 1957. In the 1990s, ToysRus became the largest toy retailer in the US, becoming the Category Killer at the time.
The expansion of ToysRus was very fast, with a large number of chain stores opened up in a short period of time. However, the rapid expansion also meant facing greater risks. With the development of the market economy and trade globalization, the market dividends obtained by ToysRus disappeared. Affected by competitors and the emergence of new online shopping models, ToysRus was eventually unable to bear the economic pressure and officially filed for bankruptcy reorganization in 2017, announcing the closure of all 700 brick-and-mortar stores across the US in 2018.
After the closure of all US stores, it caused dissatisfaction among local residents for some time, with many complaining of "not knowing where to buy toys" and feeling frustrated. Therefore, in 2021, brand management company WHP Global believed this was a once-in-a-lifetime opportunity since market demand still existed. So they decided to acquire Toys R Us, Babies R Us and Geoffrey the Giraffe's parent company Tru Kids and re-enter the toy market. In August of that year, WHP announced the brand's new transformation, partnering with department store Macy's to sell toys on the retailer's website and open shops within 400 department stores.
The first thing ToysRus did after its comeback was to change the traditional large brick-and-mortar store model, which used to bear huge staffing and space rental costs. After the transformation, it shifted to focus on online sales while only opening a small number of small brick-and-mortar stores as "experience centers" for children and parents to see various toys in person.
The recent revival of BabiesRus in the US is just one step in ToysRus's strategic revival plan.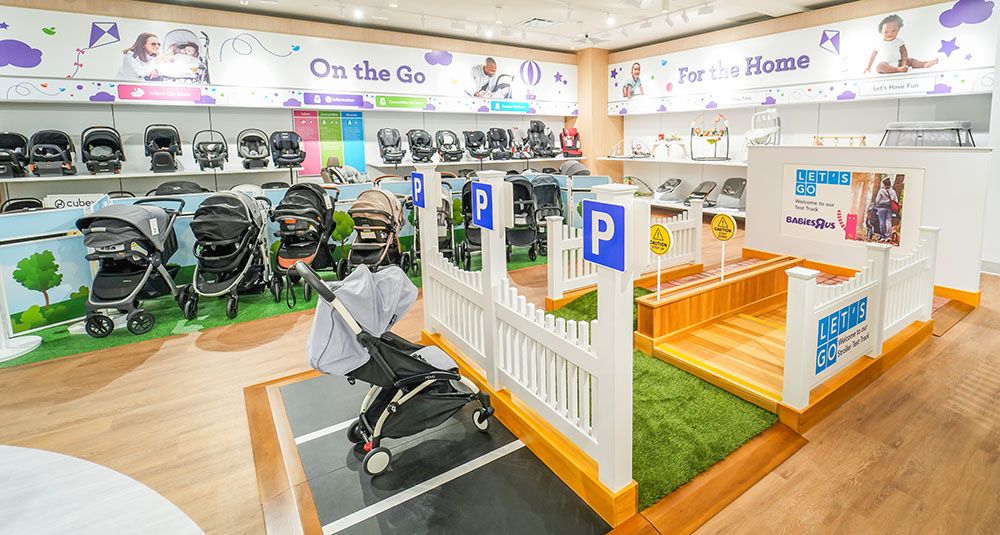 BabiesRus new decor style - added product experience zones
The revamped BabiesRus stores feature a new decor style that includes designated product experience zones. These interactive areas allow parents and children to test out and engage with various baby toys, furniture, care items and more. The experience zones create an engaging in-store environment where families can see how products work and determine if they will suit their needs.
This hands-on approach caters to today's customers who want to evaluate products in person before purchasing. By providing direct product sampling through experience zones, BabiesRus is able to showcase offerings in a memorable way that resonates with modern parents and differentiates the brand. The interactive layout aligns with BabiesRus' goal of re-establishing itself as an essential destination for all baby needs.
As of now, ToysRus has over 1,400 brick-and-mortar stores globally, and around 700 stores in the US have also announced they will be making a comeback soon. (Data from Wikipedia)
What inspirations does the revival of BabiesRus bring to manufacturers of children's electronic toys?
1) Subdivide product areas
The two images above show that on ToysRus's official website, you can also browse and purchase baby toys suitable for ages 0-2. So why create a separate BabiesRus brand?
The answer is product segmentation. In mathematical terms, ToysRus is like a large set, while BabiesRus is a subset within that larger set. On the BabiesRus website, we can see that in addition to toys, there are also many other derivative products suitable for babies. Segmenting product functions for the same audience can not only quickly and accurately meet consumer demand, but also help a brand make products more sophisticated and in-depth, solving more potential pain points for consumers.
This is the same thing that we at Cheertone are doing. Founded in 2004 and headquartered in Shenzhen, China, Cheertone has focused on electronic toys for children aged 3-12 for 17 years, undertaking OEM and ODM projects for major brands worldwide. In the past electronic toy market, the children's electronic toys we developed and manufactured as a manufacturer emphasized entertainment.
But with the change in people's consumption concepts, people are increasingly emphasizing the positive impact of toys on children's growth, rather than just buying for the sake of buying. This means that toys produced now must have educational significance and practicality, durability.
In the future, Cheertone will also focus more on educational electronic toys for children, combining STEM and AI trends, to bring procurement companies more innovative, competitive, high-quality products.
2) Brand awareness
With the development of the times, brand awareness is increasingly valued by buyers. The vast majority of people will give priority to choosing branded products when making purchases. This is because brands mean that the product has good quality and is trustworthy and safe.
As with the recent release of the Barbie movie in 2023, according to a CNN report, the Barbie movie raked in $103 million at the box office in just two weeks. As of now, the box office has already reached $1 billion.
Why is the Barbie movie so successful? This is directly attributable to the hot IP of Barbie. Long before the movie's release, Barbie had already garnered a large number of fans. Whether children or adults, these people are loyal fans of the Barbie brand. Mattel's transformation and investment in producing this movie is an absolute milestone breakthrough. Leveraging Barbie's own brand appeal, personifying the doll and conveying the cultural values of "Barbie" women for the public has enabled the movie to achieve such great success.
For electronic toy manufacturers, this demonstrates the power of establishing beloved character IPs that resonate with children on an emotional level. Companies that can create playful mascots and characters that uniquely represent their brand have a leg up. These recognizable IP not only boost product appeal and merchandising potential, but also provide opportunities for multimedia expansion. Animated web series, books, movies, TV shows and more can further connect brands with their target audience.
Building engaging worlds and personalities around original character IP gives brands multidimensional longevity and flexibility. The Barbie brand's enduring strength stems from making Barbie more than just a doll - she represents aspirational ideals that span generations. Toy manufacturers should similarly tap into what makes their IP special to foster brand affinity.
BabiesRus lists potential branded product categories customers may need
BabiesRus also curates quality partner brands for their mom fans, which not only provides consumers with a better shopping experience, but also endorses trust in their own brand.
For electronic toy manufacturers, this reinforces the importance of building a strong brand that BabyRus and other retailers will be eager to carry and promote. Companies need to invest in marketing so parents recognize and ask for their brand by name. Effective brand-building also provides leverage in negotiating with retailers - stores know that prominent shelf space for leading brands will attract customers.
Cheertone is also working hard to create more valuable branded products, such as our self-developed Kids Smart Watch series with Gubi interactive pets, as well as our latest releases - the Kidesign Kids Learning Laptop CT-900 and Funnytone Kids Smartphone Toy CT-P13A. We have always been customer-centric, continuously improving and upgrading our products based on consumer experience feedback, with the aim of bringing the highest quality, most useful toys to children.
3) Continuously innovating and inventing new products
The toy market is constantly changing along with consumer demands. Both procurers and manufacturers need to have insight into market trends. Only through continuous innovation and inventing new products that satisfy emerging consumer needs can they stand out in the highly competitive toy market.
As a professional manufacturer of electronic toys for children, Cheertone has an experienced team in operations, R&D and design. In 2023, we will also be rolling out multiple new products, including the Kids Smart Watch CT-W25, Kids Instant Camera CT-P14 and more. Additionally, we have upgraded our production equipment and product testing capabilities to increase our capacity and ensure product quality.
As a procurer, choosing a quality manufacturer can help you solve 5 major difficulties. If interested, you can check out this blog post - 5 Benefits of Working with a Professional Kids Electronic Toy Manufacturer.
At Cheertone, product innovation is at the core of our company mission. We constantly track parental preferences and technology trends to develop original electronic toys that align with market demands. Our experience developing hundreds of new SKUs annually for major brands has honed our innovation skills. We pride ourselves on being able to quickly pivot to engineer and manufacture on-trend smart toys or educational electronics that resonate with modern children and parents.
Cheertone's investment in staying on the cutting edge of product development, as well as our manufacturing agility, enables us to be an ideal innovation partner for procurement companies. We have the technical expertise and production capabilities to swiftly bring novel concepts to reality. For any company looking to make waves in the electronic toy space, our proven track record of successful innovation provides a key competitive advantage. We look forward to ideating groundbreaking new products that capture children's imagination.
Conclusion:
The revival of Babies"R"Us is the result of multiple factors including market trends, technological advances, brand development strategy, and more.
The return of Babies"R"Us demonstrates the rising demand for baby toys and early childhood education. It also reflects consumer nostalgia and brand loyalty. For toy manufacturers, this signals opportunities to establish brand awareness and continuous innovation in niche markets.
As a professional manufacturer of electronic toys for children, Cheertone will continue to focus on the kids' electronics niche, creating quality branded products and inventing new toys to satisfy evolving consumer needs. Choosing the right toy partner can help procurers tackle challenges with production, quality, cost, innovation and sustainability. We strive to deliver maximum value toys for children worldwide.
The revival of Babies"R"Us brings inspiration. With careful insight and strategic planning, industry players can successfully cater to the steadily growing toy market. At Cheertone, we are always pushing boundaries to develop engaging new products that capture children's imagination.
Our expertise in manufacturing, quality assurance, and R&D makes us an ideal innovation-focused partner for procurement companies. Together, we can keep delighting kids with inventive toys tailored for their developmental needs. The future looks bright for brands who approach the resurging toy sector strategically.
Leave a Reply
Your email address will not be published.Required fields are marked. *