By CheerTone |
17
October 2023 |
0
Comments
Customizing Childrens Cameras to Satisfy Electronic Commerce Customers
In this era of rapidly developing e-commerce, the life cycle of many products is shorter than before, but this brings with it a fierce competition trend as products continue to be optimized and upgraded so as to continuously be a popular item. In 2017, the children's camera was still in a preliminary development stage, now in 2020, it is immensely popular. When one examines Amazon product reviews focused on children's cameras, it can be seen how there is a great deal of brand competition but the commodity competition itself is a smaller market, with the product of children's' cameras having a great deal of room for growth as the market price rises for high-quality cameras. High quality and high price of mid-range products as we arrive at a breakthrough point.

In the past two years, the children's camera market has trended toward saturation, with products becoming more and more homogeneous. Therefore, in this fierce market environment, having differentiated customized products is something welcomed by e-commerce merchants. E-commerce buyers are likely to choose suppliers that can cooperate with them so as to make customized products efficiently, and it helps them to solve problems so as to gain the trust and favor of end-consumers.

About Us
Our factory has over 18 years of experience in the children's electronic toy industry. We have four production lines and more than 200 production workers. We have a fantastic quality department which strictly controls the quality of our products. In fact, our product quality has passed the certification of a series of third-party institutions: Technischer überwachüngs-Verein, SGS, v-trust, and all our products strictly follow the CE, Rohs, Astm and other relevant standards for production. This ensures our product quality meets the high requirements of e-commerce customers. In addition, we have a dedicated product development team that is led by a product manager, hardware engineers, software engineers, and 2D/3D designers. All these departments enable us to easily cooperate with the customization needs of e-commerce customers, and allows us to easily reach the OEM&ODM project goals with our e-commerce customers. These customers are often relatively powerful enterprises within the industry, with teams of several hundred people, strong sales and promotion capabilities. This results in fairly stable orders. A customer's purchase situation is generally as follows…
Customer Purchase Outline
In the second half of 2019, a customized children's camera project was set to be launched in October. By the end of 2019, the number of reorders totaled 4, Basically, orders were added every month, with the cumulative number of products being more than 10,000. New orders are expected in early 2020.
A stable sales volume of products not only requires e-commerce enterprises to have strong operations and solid sales capabilities, but it also needs the support of suppliers in close cooperation, with high quality and high productivity themselves.
Customizing a Children's Camera for E-Commerce
Now, we share an example of how we have efficiently customized a children's camera to satisfy the needs of an e-commerce customer.
I. Selected Products & 360 Perfect Products
The children's camera which was selected by the customer was a very cost-effective product, the main advantages were as follows:
(1)The screen is an IPS screen with excellent display abilities.
(2) Dual cameras.
(3) 1080P pixels.
(4) Functions including taking photos, video, photo albums, and three puzzle games.
(5) When taking photos, you can adjust the focal length according to your needs. Twenty very cute photo frames and five special effects;
(6) It is small and cute which makes it beloved by children.


However, the mold of the product is a general mold, so we wanted to make a better creation than most factories and therefore we needed to improve upon the general mold of the product itself. This general model product mainly had the following defects:
(1) With the shell, there were convex points, white marks, stains.
(2)The hole of the lanyard was too small, which made it impossible for it to pass through the lanyard.
(3) Common packaging on the market makes it easy to press the button.


Improvement measures:
To correct the defects of the general mold, we spent a lot of money to buy a batch of high-quality shell materials on the market. From the raw material to the production process, the shell did not have any convex points and scratches.
The hole of the lanyard on the mold was very small. We tried to purchase some very thin ropes, but found that we still could not solve this problem. However, we finally found a solution by putting a small thin pin in the camera parts to help consumers wear the lanyard.
In order to avoid the conventional color box pressing upon the camera button, we designed two workable designs for our customer to choose from.
The first option: The size of the color box as shown in the picture below achieved the goal of saving on the freight of e-commerce, and it was beautifully placed. This allowed customers who would receive the products to have a sense of surprise when they open the beautiful box and see the product for the first time. With this in mind, we added a cotton pad of moderate thickness to the bottom of the color box, which helped to effectively prevent the risk of a button being pressed.

The second option: A blister design, which can effectively solve the problem that the key is pressed up onto.

The defects upon the casing and the parts were not acceptable. These defects upon the packaging and other difficult problems thankfully had a solution. Because the quality of our children's cameras is greater than that of competing products, we aim to provide the best value and quality to our customers and end consumers.
Customized Requirements to be Satisfied
We have many years of OEM experience and a professional engineering design team, so we had the ability to meet the customer's customization requirements, to create the desired products. The following are the customizations that our factory could provide:
1.Customized camera switch interface UI, etc.
The client can according to their own needs, provide a design draft to us and we can optimize the software. The switch machine interface can be designed with the customer's own brand logo, or any desired brand image.
2. Color Box and Instruction Manual
The customer could choose different color box design schemes according to their own ideas and preferences. A customer can provide the corresponding design documents and relevant color numbers so that we can produce them in strict accordance with the requirements. Within this process, we make sure to not only pay attention to the accuracy of the document content and color number, but also pay special attention to the tightness of the upper and lower cover of the box. Depending on the country of export, it is then decided whether to fold the sheet or bind the sheet.

3.Silk-screen printing TP Logo and SD card Logo.
We were capable of silk-screen printing of the customer's brand logo on the cover plate of the product and the SD card as well to make the product more recognizable.
4.We deliver better extra items than other manufacturers who do not have accessories we do such as color stickers, a card reader, etc.

5.A customized lanyard with a safety buckle.
An E-commerce customer is focused on the end customers, so there are more stringent requirements on products and accessories produced. Subtle problems with products are likely to affect a brand's reputation via word of mouth and product sales. Therefore, as an experienced manufacturer, we proudly guarantee the quality of our products and try our best to solve any pain points for our customers. For example: In the category of children's toys we focus on more comprehensive consideration of product safety and are different from other manufacturers in that we provide a safety chain. We have done research and found that generally less than 20 percent of products are linked with safety fasteners.
6.Overheating Shrinkage and Labeling
In addition to meeting the above customization requirements, we also gave each packaged product a layer of heat-shrinkable film, and then upon the heat-shrinkable film affixed the label for easy customer identification during shipment. Wrapping a product in a layer of heat shrinkable film not only prevents the product from becoming dirty or scratched, but it is also effectively moistureproof as well. The above-mentioned customization requirements and details were done step by step for the customer so as to create high-quality and textured products. Our attention to detail brought great satisfaction to our customers.
How to Ensure Production Capacity and Control Quality
What happens if there is a shortage of raw materials?
Once all the customization requirements were determined, the purchase occurred. The hardest part of sourcing the raw materials for this product was for the camera, because the prices of the chips needed for the camera were unstable and often in short supply. Faced with such problems, our company kept some inventory accordingly.
What if there is a labor shortage?
When we engage in production and quality inspection in strict accordance with the provisions discussed above there can be some issues. Generally, at the end of a year when goods are needed, "In a rush," we occasionally may encounter a situation where raw materials suppliers are late. As a result, the later production aspects are very urgent. This order actually encountered this problem. However, we effectively allocated the needed number of employees, posts, and legally increased the working hours. This allowed us to complete the task on time and deliver the goods when needed.
(1) Prenatal samples: Before mass production, the engineering department made a pre-production sample according to the large sample signed-off on by the customer.
(2) Specify the responsible party: Pre-production samples of the project were sent to the project manager for signature, and also needed the quality department signature.
(3) Mass production: Pre-production samples were provided to the production department, according to the sample production.
(4) Quality control process:

Market Feedback and After-Sales Service
Less than a month after its launch, the children's camera had been selling steadily, with new orders coming in every month. Besides a small number of transportation damage-related problems, there were no major issues. E-commerce customers are, of course, the people who directly contact with terminal consumers. Therefore, for some product details or problems that consumers may encounter, our company will give relatively complete data to customers. This is done as it is conducive to providing our e-commerce customers with optimized product support and solutions to solve after-sales problems.In addition, we also have special e-commerce enterprises that are directly responsible for customers.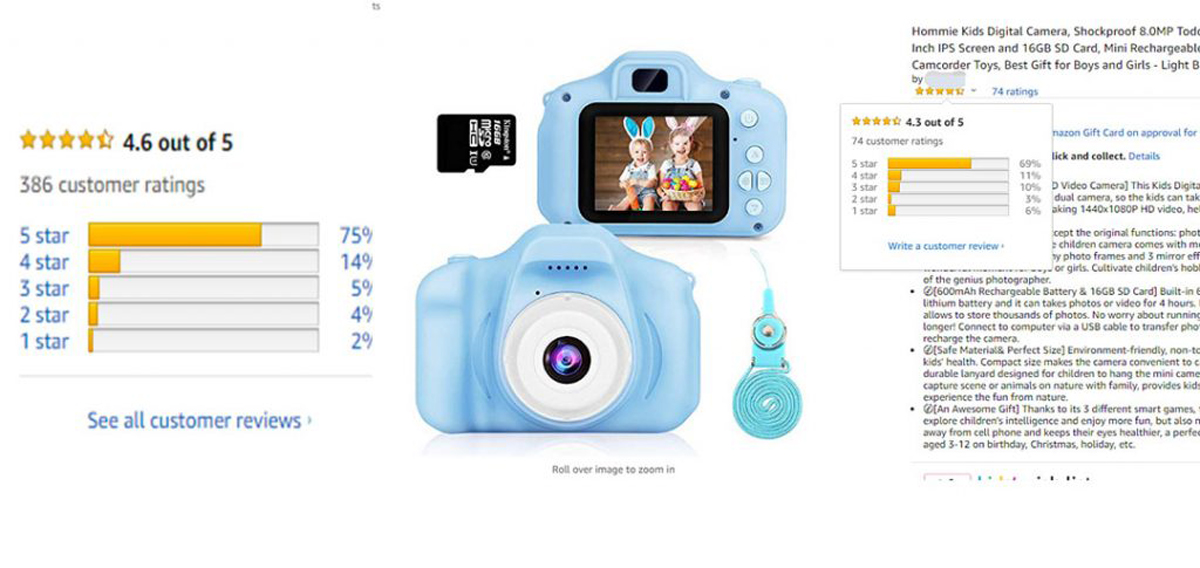 Conclusion
From early in the process where we helped customers choose their desired products, to improving the custom products according to the customer's demands, to ensuring product quality and product delivery, and finally, to the later after-sales services that help clients, we always are focused upon taking care of the customer's needs and following up about our customer's product sales. This is done in order to make sure we are able to assist our customers to have the maximum satisfaction possible with their OEM&ODM order. This is also the reason why customers always choose to work with us again and again!
In addition to providing customers with highly satisfactory products, as manufacturers, we always gain a great deal of experience with every order. Through this order, while meeting the customer's needs we also noted ways to make a variety of improvements with our own products. As a result, our product quality continues to be greater and our products always look better and better in the eyes of our customers. These experiences are bound to have a positive impact on our ability to serve more customers and develop even better products as we continue to grow!
Leave a Reply
Your email address will not be published.Required fields are marked. *