By CheerTone |
14
April 2023 |
0
Comments
Best Kids Smart Watch With Camera in 2023
Best Kids Smart Watch With Camera in 2023
In today's world, technology has become an inseparable part of our lives. Technology has helped us improve our lifestyles and enhance our living standards. The emergence of kids smart watch is one of the products that follow the trend of the times. Nowadays, kids smart watch are no longer limited to traditional clock functions, and they are becoming more intelligent and beautiful.

To help you better understand the current situation of kids smart watch, we have conducted research and selected the following top-rated kids camera smart watch in 2023 for you. They all have outstanding performance in different areas, and you can compare them based on your personal needs and preferences.(Data comes from the official websites of the brands and Amazon.com, and the ranking is not in any particular order.)
VTech Kidi Zoom Smart Watch DX3
VTech is a company based in Hong Kong that specializes in producing electronic educational toys, cordless phones, and other communication devices for children and families. They are a leading navigator in the field of kids smart education toys. VTech's well-known kids camera smart watch series includes KidiZoom and KiDiWatch.

Their VTech KidiZoom Smart Watch DX3 looks very much like an adult's watch, but it is indeed a camera smart watch for kids. This watch has basic photo and video capabilities, and the dual front and rear cameras allow children to take pictures and record life at anytime and anywhere. During the shooting process, you can also add filters and different sticker effects to your photos, inspiring children's creativity.
In addition to this, this kids camera smart watch also has many other interesting features, such as built-in LED flashlight, multiple beautiful watch faces, and event reminder function. The most special feature among them is that DX3 can search for AR monster games through scanning, which I believe is not available on most watches.
Therefore, it is undoubtedly that if you want to choose a kids smart watch with camera mainly for gaming functions, VTech Watch For Kids DX3 should be your first choice!
TickTalk 4 GPS Calling Smart Watch
TickTalk is a company based in the United States that specializes in producing smart watch for kids with built-in GPS tracking, texting, and calling features. Their watches are designed to provide parents with peace of mind while also offering a fun and engaging device for children.

In 2023, TickTalk 4 GPS Smart Watch was born, which they believe is the safest smartwatch for kids aged 5-12. This kids camera smart watch does not connect to the internet, games, or social media, and offers all the benefits of a phone to keep families connected.
TickTalk 4 is an advanced 4G/LTE kids calling smart watch that combines voice and video calling, in-app messaging, location tracking, and more, and can keep in touch with children without the need for a phone. However, if you want to use the calling feature, you may need to pay extra service fees.
By the way, there are many different styles of 4G calling kids smartwatches on the market, but their quality varies greatly, and low-quality ones may even have information leakage problems. If you want to learn more about the safety of GPS children's smartwatches, you can read this article for more information. (Is a gps kids smart watch really safe for children?)
So if you're looking to purchase a safe and reliable 4G calling kids smart watch with camera for your child, TickTalk 4 may be the first choice you need to consider.
Cheertone Kids Camera Smart Watch
Cheertone is a company founded in 2004 in Shenzhen, China, specializing in producing kids electronic educational toys, kids smart watch, kids camera, kids learning machine and game console for children.
Cheertone has 17 years of factory experience and 15 years of OEM&ODM experience. Cheertone not only have factory certifications such as BSCI, ICTI, and ISO9001, but also have various international product certifications such as CE, RoHs, etc.
Cheertone have cooperated with many well-known brands such as Toysrus, Aldi, and the products are sold all over the world.
Cheertone has launched several new kids camera smart watch in 2023, such as the Kids Smart Watch CT-W24 and Kids Camera Smart Watch CT-W23.
Let's take a look at the outstanding features of these two kids camera smart watch.
The Kids Smart Watch CT-W24, equipped with a 1.69-inch IPS touch screen, has a very cool appearance and incorporates several functions independently developed and innovated by Cheertone.
For example, the colorful mood light function supports adjustment in 4 modes. You can choose your favorite color and let it display on your watch case. I believe this very cool and innovative coloful mood light must be a feature you have never seen before. It can make your child stand out in the crowd and become the coolest kid.
The unique design of the 90-degree rotatable and retractable camera brings you a completely different smooth experience. Compared with traditional kids camera smart watch with 90-degree rotatable cameras, the camera of CT-W24 is not only supports 90-degree rotation but also retractable. When you are not using the camera function, you can hide the camera. This makes taking pictures more ceremonial for children.
In addition to these features, CT-W24 also has other very practical functions. For example, it has up to 70+ built-in dials, 14 photo frames, 29 puzzle games and motion sensing games, GUBI interactive pets, etc.
You can also listen to 15 stories and 5 music on the CT-W24, let your child learn letter knowledge and commen sense knowledge through the function of learning cards.
To avoid children being addicted to games and developing bad habits, CT-W24 also has reminder and parental control functions. This allows your child to enjoy the fun of a kids smart watch with camera in a controllable range.
If you are interested in the CT-W24 after the above explanation, please feel free to contact us immediately and learn more about the discounted price of this product!
Compared with the CT-W24, the Kids Camera Smart Watch CT-W23 also has its unique features. As you can see from the pictures, CT-W23 has a unique appearance design. We have designed a unique shell for both the pink and blue versions to highlight different children's personalities. CT-W23 is equipped with a 90-degree flip camera, but unlike the same kids camera smart watch sold on the market, we have upgraded the flip function to provide a smoother experience during use.
In addition, we have designed two unique UI and watch faces for them. It is worth mentioning that CT-W23 also supports headphone insertion. As parents are always concerned about the loud sound of kids electronic educational products, this function can not only help parents solve this problem but also provide a better experience for children. At the same time, with the built-in Talking Hippo pet function, children can also have a conversation with Mr. Hippo to develop their communication skills.
The above are two new kids smart watch with camera independently developed by Cheertone. If you want to learn more about the product details, please go to the Products page.
Little Tikes Tobi Robot Smartwatch
Little Tikes is a toy company that mainly produces indoor and outdoor toys for babies, toddlers, and children, such as children's room furniture, educational toys, outdoor amusement facilities, and more. Its products have best price and well-known for their quality and safety, suitable for both home and school use.
Tobi Robot Smart Watch is a children's educational toy developed and produced independently by Little Tikes. As shown in the pictures, this smartwatch has a very cute appearance. It combines the interactive function of a watch with a playful and personalized robot. Its movable robot arms and legs, fun sound effects, and over 100 expressions will make children laugh, dance, play, learn, and more!
It supports taking photos and recording videos, and children can also customize their photos using the funny stickers. Based on the above features and characteristics, Tobi Robot Smartwatch is more like a simple electronic toy that accompanies children to play. This kids camera smart watch is more suitable for children aged 4 to 8.
Therefore, if you want to buy a simple and cute kids smart watch for your child, Tobi Robot Smartwatch may be more suitable for you!
T-Mobile SyncUP Kids Watch
T-Mobile is a top-three telecommunications company in the United States, primarily providing mobile communications and data services. It offers various plans, including voice, messaging, and data services. In addition, it also sells products such as 5G smartphones and smartwatches. Worth mentioning is T-Mobile self-developed SyncUP Kids Watch. Although its appearance looks more suitable for adults, the features it has are what school-going children need.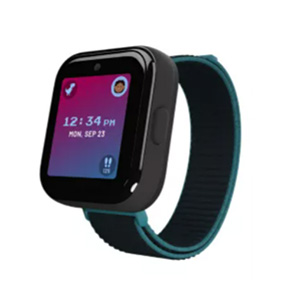 T-Mobile strength in technology such as mobile communications and data services is beyond doubt. SyncUP Kids Watch is equipped with 4G calling and GPS positioning capabilities, which not only meet children's daily phone call needs but also enable parents to track their children's location in real-time to ensure their safety.
In addition, it also features a single camera, making it easy for children to capture, record, and share magical moments. But its outstanding feature is not in taking photos, but in its safety performance.
So if you want to buy a safe, simple, and feature-light kids camera smart watch without many complex social media applications for your child, SyncUP Kids Watch will be your best choice that you cannot miss.
In Summary
We believe that everyone has gained a more detailed understanding of the different brand manufacturers and their respective kids smart watch with camera. Although these companies have different professional fields, their positioning for kids smart products is very clear, all aimed at bringing happiness and safety to children. Let kids smartwatches become protectors in children's lives, accompanying them to grow up healthily and happily.
If you want to learn more about the latest news on kids smart watch, please feel free to bookmark and subscribe to our website. You will be able to receive our latest news in the first place.
If you have more questions about kids smart watch, please feel free to leave us a message. Contact us
Leave a Reply
Your email address will not be published.Required fields are marked. *